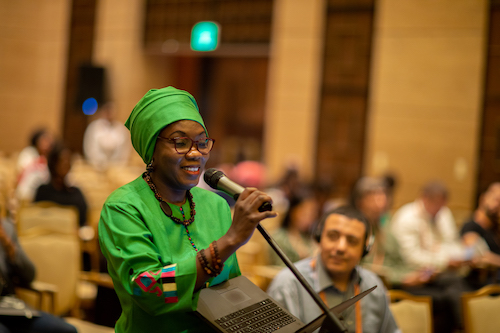 The Internet has widely been seen as having the potential to contribute positively to economic growth and development to improve individuals' livelihoods and quality of life in Africa. The increased take up of information and communication technologies (ICTs), particularly broadband, has been linked to economic growth and social inclusion.
Today, the digital transformation provides new avenues for the inclusion of the youth, women and persons with disabilities. The Internet, digital platforms, mobile phones and digital financial services offer "leapfrog" opportunities for all and have the potential to bridge the divide by giving diverse groups that were otherwise left behind the possibility to access knowledge, network with peers and exchange ideas. The only way to bridge the digital gap is to build a community that fosters growth and opens a door to the embracing of diversity while and creating an environment that safeguards interactions. For this to work, the African Internet Community needs to work as a team for the goal that lies ahead cannot be achieved on an individual level. We need to seize this opportunity to foster the inclusion of these groups in our community, learn from them and build a more inclusive and diverse community.
The Africa Internet Summit (AIS) is an annual, regional, multi-stakeholder ICT conference. It is the pinnacle educational and business ICT event in Africa where key players in the Internet industry can interact with the global Internet community. This is the right audience to further the discussion on inclusivity and diversity in the region.
The Inclusivity and diversity session will bring together leaders and top executives from organisations concerned with bridging the digital divide through inclusion and diversity from Africa and around the world. Renowned speakers will also share their perspectives and experiences through presentations in panel discussions.
Theme
Fostering an inclusive and diverse environment in the African Internet Ecosystem
Objectives
This session is dedicated to Inclusion and diversity in the African Internet Community and the session will:
Share good practices and recommendations for continuity of bridging the digital gap through diversity and Inclusion
Mobilise partners from the Internet Community in an open discussion on how inclusivity and diversity can be applied in the African Context
Date: 28th May 2021
Time: 11-13 UTC
To participate in this session advance registration is required, click here to register.